The Most Economical Booking App For Any Business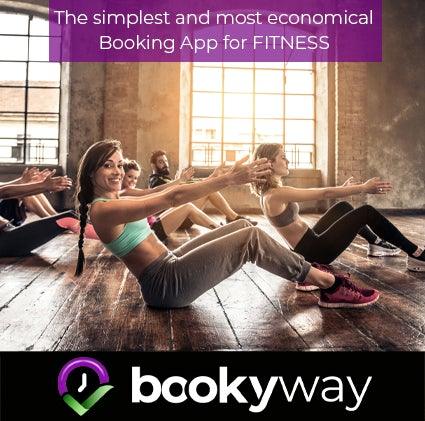 Do you manage a fitness business?
Well, congratulations! You're one of the hardest working people on the planet. But even the busiest among us need to take a break every once in a while, and what better way to manage your time than by using BookyWay? It's the perfect app for you and your members.
Set up your classes and courses quickly and easily. If you are looking to take your online classes to the next level then this App is for you and your clients. Our integrated conference platform allows you to easily conduct live video classes with students from all around the world. Plus, our sleek and user-friendly interface makes booking and attending classes a breeze!
Your customers can choose and purchase one of the service plans offered by you to book your activities. The credits will be uploaded to the customer's app automatically, and you will immediately receive the payment in your STRIPE account.
Keep your clients in the loop easily. This app lets you share information about your Studio in real time, making it easy to introduce offers, news, and new activities. You can also send "push" notifications that will appear on your member's smartphone even when the app is off. So whether you're looking for a more professional way to blog or just want to stay friendly with your clients, BookyWay has you covered.
And what does it all cost, well nothing. There is NO monthly subscription fee!
You get 30 days from when you sign up to get set-up and load all your existing members for free. After that you only pay 1 euro, ONCE IN A LIFETIME, for each additional new member added!
Here's how it works:
Step 1️⃣: Create your FREE account
Step 2️⃣: 30 days to Insert all your Clients Master Data inside BookyWay
Step 3️⃣: Use BookyWay FREE forever
Step 4️⃣: After 30 days a new Client walks in and is not in your system? Just pay one credit (=1 EURO) ONCE IN A LIFETIME to insert client's data into the system. THAT'S ALL! Try it's FREE.
So why wait? Make your booking experience more interactive and engaging today with BookyWay!
SIGN UP UNTIL THE 10TH JANUARY AND GET AN EXTRA 30 DAYS TO SIGN UP YOUR CLIENTS.

USE PROMO CODE: XMAS21UKSM
---