AntiGravity® launches NEW education!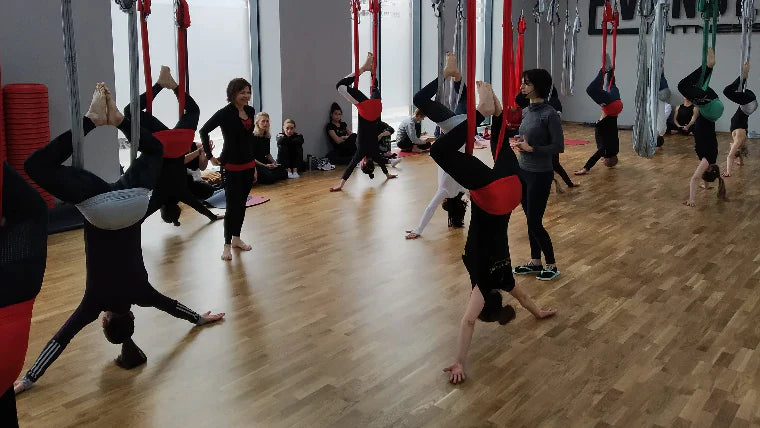 AntiGravity® has launched a range of education certifications and workshops for 2022.
There is still time to make the most of the Jubilee bank holiday weekend (2-5 June) and register to become a certified AntiGravity® Instructor with AntiGravity® Fundamentals 1 & 2 Certification taking place in silver affiliate studio, Repose-Space, in the heart of the buzzing Kensington High Street, London.  Plus we have an extended discount of £100 for this intensive course weekend in honour of the Jubilee celebrations. 
What's more, we have launched a range of two days advanced workshops for any AntiGravity® or Fitness Instructor to attend. Like Suspension Fitness focusing on using the Harrison Hammock for strength, or Aerial Yoga specialization, or even the very special Restorative Yoga workshop.
PLUS, new and exciting, we are launching a Refresher Course for all AGY instructors...
AntiGravity® Instructor Refresher Course
The in-person Refresher course with Instructor Trainer Nuno Campos is perfect for CAGIs (Certified AntiGravity® Instructors) who wish to review content and deepen their understanding of the technique. Delivered to suit your needs, this course is personalised according to the attending instructor requirements! Yes, that's right, we bespoke the course for you, based on your experience and needs.
Has it been a while since you taught? 
Want to get re-energized? 
The Refresher is the ideal course for you!
Course Benefits:
Led by a Certified AntiGravity Instructor Trainer
Receive personalized content to fit your need
Review modifications, progressions and drills as needed.
Get clever tips and tricks from experts.
Review teaching cues, crucial scans & spots for proper instruction and safe execution.
Learn to lead more successful and inspiring classes. 
In this 1-day Refresher, you will review, refine, and update your skills. BONUS: Attendance of this course includes the renewal of your AGDA membership.
NASM & AFAA approved for CEUs: NASM: 0.6; AFAA: 6
AntiGravity® Fitness is recognised by the National Academy of Sports Medicine and the Aerobics and Fitness Association of America as a Continuing Education Provider.
---