Celebrating Success: Athleticum® Wins UK Enterprise Award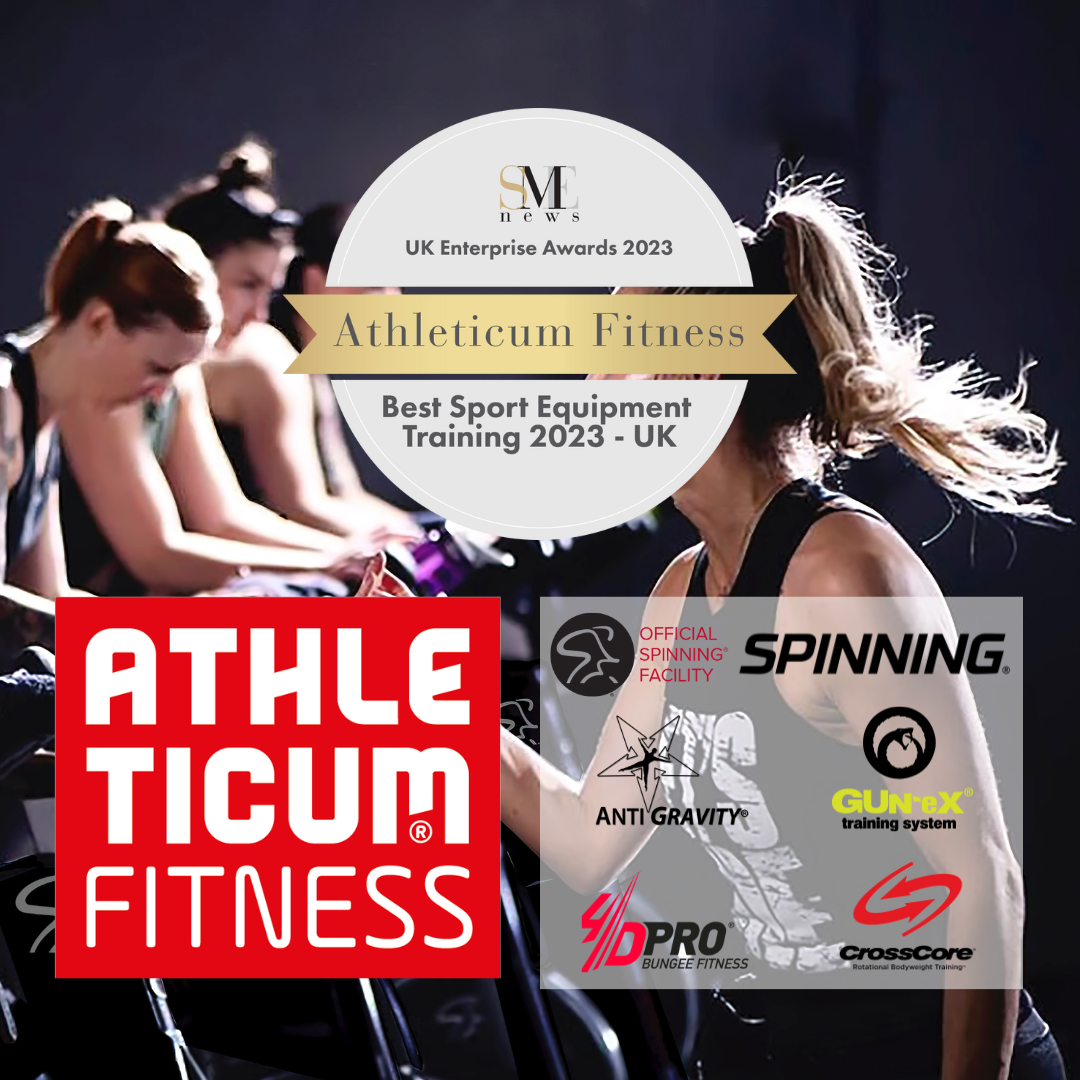 We are thrilled to announce that Athleticum®, the premier provider of sport equipment training solutions, has been honored with the prestigious UK Enterprise Award for Best Sport Equipment Training by SME News. This incredible achievement comes on the heels of our earlier triumph as the recipient of the IFS Brand of the Year award in March. The consecutive recognition demonstrates our unwavering commitment to excellence in the sports industry and reaffirms our position as the go-to destination for exceptional training solutions.
CLICK

 

HERE

 

to read the announcement and article in SME News
Athleticum® emerged from the recognition of a crucial need for quality equipment-based group training, education, and events in the fitness and sport industry. Since its inception, the company has consistently exceeded expectations and delivered unparalleled service, positioning itself as the leader in this space. Co-Founder, Sarah Morelli, provides further insight into Athleticum's journey, achievements, and future plans.
A Leader in Group Training: Athleticum's Vision
Athleticum® has earned an exceptional reputation by addressing a fundamental requirement in the fitness industry – training. Regardless of the industry, everyone strives for constant improvement, especially in today's highly competitive business world. Athleticum® has become the de facto leader in this space, offering top-quality training, education, and events, as Sarah explains.
"Our goal with Athleticum was to support equipment-based group training, education, and events in the UK and Ireland by providing quality training and inspiring dynamic presenters. Over time, we have expanded to distribute and install high-quality commercial and home training products while offering group education programs. We also organise the PROS Fitness and Spinning® Conference annually in Blackpool Wintergardens to showcase our offerings."
The mission of Athleticum® is to revolutionise group training in the UK and Ireland, equipping people with superior products, energising them through experienced coaching, and empowering individuals with the knowledge needed for success. Athleticum® practices what it preaches, constantly challenging boundaries and refining its own abilities while helping others do the same.
 Celebrating Success: A Culture of Victories
Sarah emphasises the importance of a dedicated team that believes in the company's vision. Athleticum® thrives on celebrating wins together, not only within the team but also for their clients and the industry as a whole. The recent accolade of being named the 'International Fitness Showcase Brand of the Year' and attending the Elevate B2B industry event for the second time are just some of the achievements that contribute to the company's ever-growing list of accomplishments.
Athleticum recognises that its victories extend beyond the team itself and positively impact every level of the business. The joy of success is passed on to the clients of their clients, who achieve their own goals down the line. This interconnectedness positions Athleticum as a crucial player in the greater health and fitness landscape.
Quality, Experience, and Unique Offerings
Quality and the experience of achievement are at the heart of Athleticum's values. The company's focus on delivering courses to professionals in the health and fitness industry is driven by the desire to enhance the wellness of end users. Their unique selling point lies in their origin products, representing brands such as Spinning®, Gun-ex®, AntiGravity® Fitness, CrossCore®, and 4D Pro® Bungee Fitness. Athleticum takes pride in being the sole company that exclusively focuses on the boutique fitness or group training element of the fitness market.
"At Athleticum Fitness, we're dedicated to elevating the corporate landscape within the UK and beyond through bespoke training courses for independent or club-based fitness instructors."
Looking Ahead: Sustainable Growth and Expansion
Athleticum® has ambitious plans for the future, revolving around sustainable growth and expansion into new areas and vertical markets. The company aims to launch its product service department and anticipates a stronger year in 2024, with a potential digital offering on the horizon. Exciting developments lie ahead, and the industry can expect Athleticum® to continue pushing boundaries and setting new standards. 
Athleticum® has established itself as the leading provider of group training solutions, education, and events in the fitness industry. The company's commitment to excellence, unwavering passion, and dedication to its clients have propelled it to unparalleled success. With a clear vision for the future, Athleticum® is set to revolutionise the group fitness product landscape, empowering individuals and enhancing the wellness of end users across the UK and Ireland.
Invest in Excellence: Athleticum® Group Training Solutions for Sports
At Athleticum®, we understand the critical role that high-quality training plays in an athlete's journey. Our award-winning group training solutions are designed to equip teams and individuals with the tools they need to excel in their respective sports. Whether it's professional clubs, school sports programs, or recreational teams, our training solutions cater to the diverse needs of athletes across all levels.
Our extensive range of equipment and training aids are meticulously crafted to provide teams with the best training experience to enhance performance, build strength, and foster team spirit.
Invest in Your Team and Member Success
Athleticum invites you to invest in your club's, and ultimate member success, with our award-winning group training solutions. Equip your members with the tools they need to surpass their goals and unlock their true potential. Discover how our innovative products and training aids can make a significant difference in your team's performance and your clubs return on investment.
CLICK HERE to read the announcement and article in SME News
Visit our website at www.athleticum.co.uk to explore our wide range of training solutions and experience the excellence that has earned us the UK Enterprise Award for Best Sport Equipment Training. Together, let's raise the bar and redefine what's possible in the world of sports.
---